Stalking: Final Report (html)
Posted on

October 28, 2022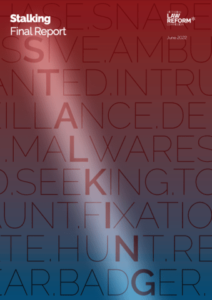 This report contains 45 recommendations for stalking law reform. They aim to improve the ways that the justice system treats people who have experienced stalking in a non-family violence context.
The report recommends that victims should have easier access to financial and practical support, such as technology to prevent cyberstalking. Victims should be supported by independent advocates to guide them through every stage, from reporting the stalking activity to accessing support services and any court actions.
The report also recommends improvements to the personal safety intervention order (PSIO) system. The system is currently swamped, so non-family violence stalking matters do not receive the attention they need. The VLRC recommends developing guidance on how to identify and prioritise stalking cases.
Another recommendation calls for the Crimes Act to be amended to make the stalking offence clearer and easier to apply.